Bi-Fold Doors
An increasingly popular choice adding that extra touch of style to your home or office.
---
Transform your home & the way you live your life.
Relax in stylish open plan living areas or enjoy stunning panoramic views from any room in your house, connecting the inside to the outsid
Bifold doors can create a whole new feel, whether you want to use them internally or externally. They can be chosen to match the existing style of your property and can provide a smooth transition between rooms, or between indoor and outdoor space.
Also known as Sliding/Folding Doors, Bifold Doors are simply doors that can fold & open inwards or outwards and are suitable for left or right hand opening. They can be fully opened, partially opened or totally closed, depending on the amount of space required.
Bifold Doors are ideal for connecting living rooms, entertainment areas, gardens and patios and can be custom designed to meet individual tastes and specifications. Commercially they are used in restaurants and offices to create partitions and space.
Here at Concept Glazed Aluminium we can glaze your Bifold doors with toughened or laminated glass or highly recommended energy efficient double glazed units, depending on your individual requirements.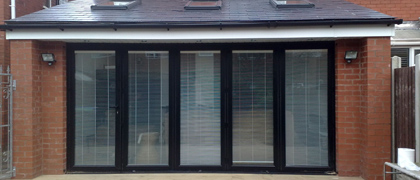 VISOFOLD 4000
Unique slide and fold dual hollow aluminium system. The doors which sit in a rebated frame have an external curved shape with internal beading. Bottom wheels and top glider are safely concealed within a dedicated floating mullion with the door leafs being joined by a butt type knuckle hinge. Suitable for domestic and light / medium / heavy duty commercial applications.
VISOFOLD 2000
A slide-folding door styled for retail and commercial applications.
VISOFOLD 3000 Panorama
The latest edition to the Visofold range of slide-folding doors.
Visofold Panorama offers elegant slim sightlines coupled with highly engineered hardware designed to ensure years of reliable service.
VISOFOLD 1000
Slide folding doors offering slim sightlines that are ideally suited to residential applications.