Commercial Shop Fronts Supplied and Installed
---
As a premier supplier of shop fronts, we have supplied and installed shop fronts for many leading retailers. We always strive for the highest standard of product, workmanship, and finish.
We offer a complete package right from the design stage to the fabrication and installation of your chosen shop front. We keep you informed at all stages of the work, from the initial consultation where we discuss what you want from the shop front, what image you want to portray and the budget which you have, to the preliminary designs, to the work being carried out. We will always make sure you are never in the dark about what is going on, our transparent process enables you to feel confident in our work and is always praised by customers. We take the utmost care in every stage to design a product that is customised for what you need.
"Aluminium shop fronts can transform your shop to give a fresh modern and stylish look that will draw in extra custom, remember first impressions count and the first impression of your shop is the shop front."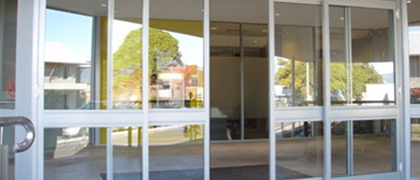 DOOR TYPES
Shop fronts come with a variety of doors whether it be a sliding or swing door, manual or automatic here at Concept we can offer the complete solution to your requirements.
Aluminium entrance doors are pivoted on a bearing at the bottom and are pivoted on the top with a concealed transom closer this can close as normal or be fitted to hold open at a 90* angle.
The aluminium entrance doors themselves can be fitted with a variety of different locks such as hook locks and magnetic strike locks. The door can consist of one piece of glass or split in to two. The entrance doors can be fitted with any type of handles and can be powder coated to any colour you desire. The can be made to open inwards or outwards and closing speeds can be adjusted accordingly.
CHOOSE ALUMINIUM
Today's Aluminium provides a unique solution for construction needs.
Aluminium is very durable, light weight & strong.
It is highly resistant to corrosion caused by modern industrial pollutants.
Requires little long term maintenance.
We can guarantee your new shop front will last for many years.
Gives your premises a chic and modern finish.
It is very flexible and easy to handle - this gives it tremendous potential for design. Because of its characteristics it is incredibly formable and can be bent or shaped into innumerable architectural designs.
One of the great aspects about an aluminium shop fronts is that they can be purchased in a variety of styles and colours. Aluminium has an extensive colour range.