Secondary Double Glazing
Improving the warmth, security and noise reduction in your home
---
There are various reasons you may not wish to fully replace your existing windows. They may still be in good condition, traditionally designed or protected as part of a listed property. Secondary glazing is strongly recommended by English Heritage and & indeed welcomed by planning officers as a much better alternative to replacing windows & doors in conservation areas & listed buildings. The "Energy Saving Trust" states that it is the ideal solution if you are unable to fit double glazing.
Secondary double glazing windows are tailor-made to fit inside your existing windows, unobtrusive on the inside and practically invisible on the outside, preserving the quality of your existing windows while allowing you to enjoy the benefits of a warmer, quieter and more secure home.
Secondary Glazing involves adding an extra slim-line window in addition to your existing windows. Our Secondary Glazing is made from strong lightweight aluminium so that the frames can be made very slim and discreet.
Benefits of Secondary Double Glazing
Energy Saving & Reduces Heating Bills
Your home will become warmer and more energy efficient. Air is trapped between your existing window and the new secondary window, insulating against the cold outside and preventing draughts. We can also use specially coated heat-reflecting glass to further insulate your home and help you to become more energy efficient by cutting down on fuel bills.
No more Draughts from Windows and Doors once they have been fitted with Secondary Glazing!
Standard Secondary Glazing greatly increases the Thermal Rating of the Window - Low "E" Glass can be used to equal or better the Thermal Performance achieved by Replacement Sealed Unit Double Glazing.
Meets the requirements of Building Regulations Document "L" for the Thermal Standard of New & Replacement Windows.
Improved Energy Rating for the new Energy Performance Certificate for the Home Buyers Pack.
YOU COULD SAVE AROUND 10% ON YOUR FUEL BILLS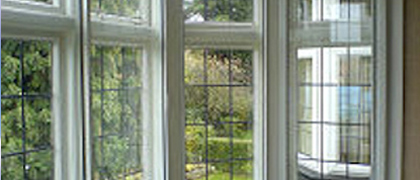 SECURITY
Standard Secondary Glazing adds considerably to security - it can only be opened from inside. The addition of toughened or laminated glass & additional locks will further increase window & door security.
Purpose made secondary windows installed independently to the inside of the existing window frame can provide enhanced protection, whether to a single vulnerable window or to a complete building. Protection is available from simple low level deterrence to significant resistance against a determined attack.
CHARACTER
Secondary Glazing can provide all of the heat & noise insulation that modern living demands whilst protecting the character of your home by retaining the original timber or metal windows.
CAN BE FITTED SWIFTLY WITH MINIMAL DISTURBANCE TO OCCUPANTS.
CAN BE FITTED IN PHASES TO SUIT YOUR BUDGET
NOISE REDUCTION
Standard Secondary Glazing achieves a significant reduction in noise entering from outside & also reduces the noise levels coming from your premises.
Specialist types of glass are especially effective against road, aircraft, rail & in fact any type of noise.
MINIMAL MAINTENANCE IS REQUIRED
COST IS SIGNIFICANTLY CHEAPER THAN REPLACING WINDOWS
PROTECTS CARPETS & SOFT FURNISHINGS
Where Secondary Glazing with laminated glass is specified it protects carpets & soft furnishings by filtering out the colour fading effects of UV light.
We can supply frames in white, silver or brown as standard or accommodate any RAL colour upon request to suit individual requirements.
We provide a comprehensive range of styles to suit just about every application, including Horizontal Sliders, Hinged Units, Fixed and Lift-Out Units, Vertical Sliders, Balanced Vertical Sliders and Tilt-in Balanced Vertical Sliders.
We can supply frames in white, silver or brown as standard and can accommodate any RAL colour upon request to suit individual requirements.
We can also provide a wide range of glass types such as clear, patterned, toughened, laminated and acoustic.
Here at Concept our products are second to none and our prices are very competitive.